At our recent AsONE leadership night, I spoke about finding things in life that help grow us as leaders. I shared that for me personally I read lots of leadership books and listen to podcasts nearly every day. When I do this on top of my daily reading of God's Word I find myself at my best as a leader. Reading and hearing from other leaders around the world helps stimulate creativity, grow me as a leader and draw me closer to God.
Following the AsONE night, I received an email suggesting I do a Leadership BLOG for 4 weeks recommending 2 books and 2 Podcasts in each, and so….here goes!
At Follow we are serious about helping you develop as a leader and I hope you find these resources helpful.
Podcast and Book Recommendations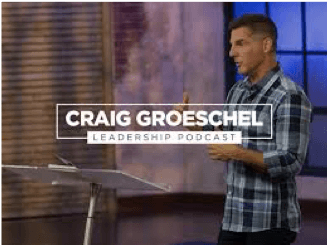 Podcast: Craig Groeschel
Website: https://www.life.church/leadershippodcast/
Podcast feeds: Apple, Google Play
Craig Groeschel is well regarded as a Church leader, best known as the Lead pastor of Life Church. Life Church is one of the biggest Churches in the U.S and has 10 locations, with a mission to lead people to become fully devoted followers of Christ. It is one of the world's most innovative churches and is the Church that produced the YouVersion Bible App.
The Craig Groeschel Leadership Podcast is Craig presenting on different aspects of leadership that are applicable to the Church but also to wider contexts. The strength of the podcast is that it is short, clear, focussed and it covers a broad range of topics. Another strength are the show notes. They are easily accessible and clearly cover all the content in each episode.
I find Craig to be a helpful voice in the area of leadership and because each monthly podcast is short, you can easily get through one as you walk the dog or drive to work. I love the heart of Life Church to serve Christ's Church through technology and free resources. Their website life.church is a resource you can mine to grow in most areas you could imagine!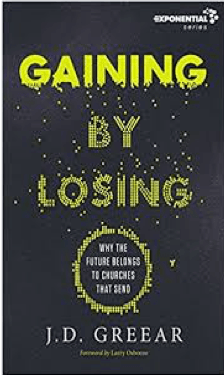 Book: Gaining by Losing
Author: J.D.Greer
Theme: Sending and generosity
As a new Church plant, and a first-time planter, I found Gaining by Losing to be an inspirational read. J.D pastors a Church called Summit Church, which is one of the world's fastest growing Churches with a vision to plant 1000 new Churches by the year 2050! So far, they have planted well over 100.
The themes of the book include multiplication, sending, planting and radical generosity. The main idea of the book is summed up in the statement that "Churches that give away both their people and their resources are the Churches that will expand the Kingdom of God into the future." This involves the challenge of who's Kingdom we are building; ours or His! I love his statement that "Love on display is our most powerful apologetic", something that resonates at Follow. There are so many helpful things in this book to help us be more effective at mission to an increasingly Post Christian world.
If you want to be challenged and stretched towards greater Kingdom generosity in your life and a more deliberate sense of mission in your life, then you will find this book encouraging, written by a person leading a Church that is living out the message J.D shares.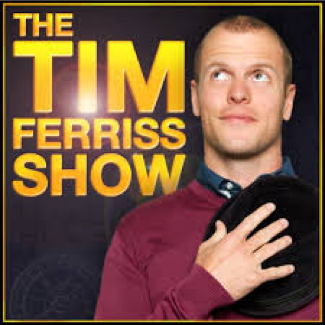 Podcast: The Tim Ferris Show
Website: https://tim.blog/podcast/
Podcast feeds: Apple, Stitcher & Overcast
This podcast is not a Christian leadership Podcast but is definitely fascinating to listen to regularly. Here's how the website describes it: "The Tim Ferriss Show is generally the #1 business podcast on all of Apple Podcasts, and it's been ranked #1 out of 300,000+ podcasts on many occasions. It is the first business/interview podcast to pass 100,000,000 downloads, and it has been selected as "Best of" Apple Podcasts for three years running (In 2016 under "most downloaded").
Past guests include Arnold Schwarzenegger, Jamie Foxx, Edward Norton, Tony Robbins, Maria Popova, Peter Thiel, Marc Andreessen, Amanda Palmer, Malcolm Gladwell, Vince Vaughn, Rick Rubin, Reid Hoffman, Jon Favreau, Whitney Cummings, Mike Shinoda, and 300+ more.
Each episode, I deconstruct world-class performers from eclectic areas (investing, sports, business, art, etc.) to extract the tactics, tools, and routines you can use. This includes favorite books, morning routines, exercise habits, time-management tricks, and much more."
To hear different perspectives from world class leaders in business I add this to my mix as an occasional listen. Tim's interview style is not as relaxed as others and goes into his interviews highly prepared with his guests. If you are a structured person this style may appeal more to you.
Book: Lasting Impact
Author: Carey Nieuwhof
Theme: Facing the growing challenges of Church in a changing culture
Carey Nieuwhof regularly interviews guests on his podcast who are leading Churches all around the world. As a result of this he is constantly learning, growing and seeing patterns emerge in the issues that Churches universally face. In his book Lasting impact he addresses 7 conversations that Churches should be having. They are as follows:
· Why are we not growing faster?
· How do we respond as people attend Church less often?
· Are our leaders healthy…Really?
· What keeps High capacity leaders from engaging our mission?
· Why are Young Adults walking away from the Church?
· What cultural trends are we missing?
· What are we actually willing to change?
These questions are worth pondering and if not all of them are relevant to you the strength of this book is that you can focus on the issues that are most pressing for your situation. Having said that it is not a thick book, making it a relatively short read from cover to cover. Carey always presents in a way that is relatable and easy to follow and his books are written in the same way.
Stay tuned for 4 more next week!