At our recent AsONE leadership night, I spoke about finding things in life that help grow us as leaders. I shared that for me personally I read lots of leadership books and listen to podcasts nearly every day. When I do this on top of my daily reading of God's Word I find myself at my best as a leader. Reading and hearing from other leaders around the world helps stimulate creativity, grow me as a leader and draw me closer to God.
Following the AsONE night, I received an email suggesting I do a Leadership BLOG for 4 weeks recommending 2 books and 2 Podcasts in each, and so….here goes!
At Follow we are serious about helping you develop as a leader and I hope you find these resources helpful.
Podcast and Book Recommendations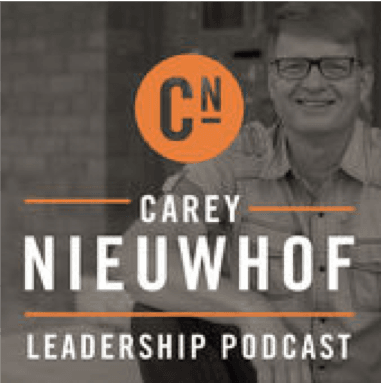 Podcast: The Carey Nieuwhof Podcast
Website: https://careynieuwhof.com
Podcast feeds: Apple, Google Play, Stitcher, TuneIn, RSS feed
The Carey Nieuwhof podcast is my favourite leadership podcast and the aim of the podcast is to 'help you lead like you've never lead before'. I have found it to be encouraging and stretching in my own leadership for a number of reasons:
· Carey is a great interviewer because he shows genuine interest in the guest and you can tell that he is often genuinely excited about what the guest is sharing with the audience. As an established leader, he never comes across as someone who knows it all, but rather he personally shows a desire to keep growing. I heard him share that he sends guests a short survey and then doesn't over prepare so that the interview is free to go in various directions based on what is shared. Carey will often ask the guest to dig a little deeper or explain further what they just shared. This can end up unearthing hidden gems that may not have been discovered if he was more structured and less intuitive.
· Carey interviews guests who are world leaders in Church ministry in a variety of different roles. You can easily search through the topics and you will find that they are broad and interesting, and very rarely do I get through an interview without getting some serious takeaways to apply.
· This podcast comes with show notes and often delivers good next steps to explore if you want to know more about the topic.
· The podcast is highly practical and easy to listen too.
· Carey Nieuwhof provides a lot of resources for leaders at https://careynieuwhof.com This includes the Podcast, BLOG, books and courses. Definitely worth checking out!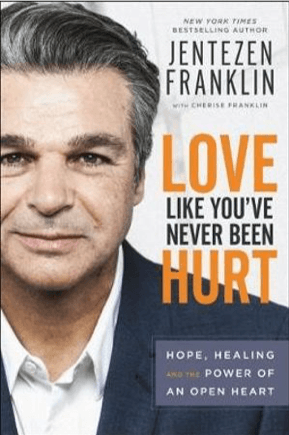 Book: Love Like you've never been Hurt
Author: Jentezen Franklin
Theme: Forgiveness
Love like you've never been hurt is not what I would call an 'enjoyable' read, but it is certainly challenging and helpful in the area of forgiveness. It is not a leadership book as such, however forgiveness is something that can enhance or detract from our ability to lead effectively. Franklin shares personal stories that are powerful and relatable and the challenge of the book is to seek the way of Jesus and forgive those who hurt us, even those who are closest to us; often they are the ones that hurt the most. At the end of each chapter he emphasises the big idea and it is jam packed full of practical tips and reminders of how to find hope, healing and the power of an open heart.
I personally picked this book because of the title and it has challenged me to apply the Gospel through forgiveness in my own life. One helpful thought was that "your greatest temptation will come with your greatest justification" In other words, if we can justify our feelings of anger or unforgiveness, because of what someone has done, we are tempted to excuse our unforgiveness as something that is justified. Clearly that is not the way of Christ and will end up hurting ourselves more than the perpetrator.
I would highly recommend this book but prepare to be challenged in your own attitudes and heart condition!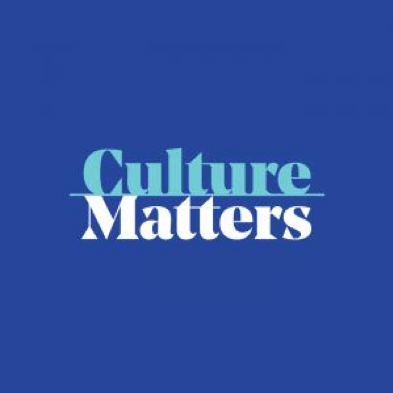 Podcast: Culture Matters
Website: tvcresources.net
Podcast feeds: iTunes, The Village Church App
Culture Matters is a very relevant podcast because it deals with current issues in society and what a Kingdom response would be to those. Recent issues covered include things such as racial harmony, technology, engaging culture, humour in the Church, politics and even gaming! These guys are solid theologically and always bring a challenging and often interesting perspective to these matters.
I love the way they are willing to tackle all the 'hot' topics in a down to earth and engaging manner, without presenting like they are the fount of all knowledge. The importance of Christians thinking critically and Biblically in cultural issues is, so essential when engaging in a post everything world where cynicism is high and tokenistic answers no longer cut it. If you want to think more deeply and prepare yourself for engagement with people in your life with a different worldview, this is a very helpful podcast.
N.B. Also for a range of other helpful things you can check out the Village Church at tvcresources.net and you will find sermons, BLOGs and podcasts to help you in leadership and faith. Matt Chandler is the Senior Pastor of the Village Church and one of the most gifted communicators in the world. You can find his messages at the site as well or you can download the Village App to your phone.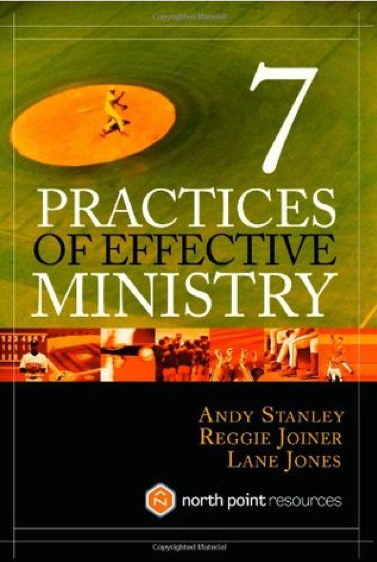 Book: 7 practices of effective ministry
Author: Andy Stanley, Reggie Joiner & Lane Jones
Theme: Simplifying Church to increase effectiveness
I have recently completed this book and found some really great takeaways from it. Andy Stanley and Reggie Joiner are well respected and well-known Church leaders and this book definitely has an American flavour too it, picking up on baseball analogies to make their points. This may be irritating for some, but if you can look through that you will find some real gems in this book from people who have lived the journey of leadership. The 7 practices are as follows; Clarify the win, think steps, not programs, narrow the focus, teach less for more, listen to outsiders, replace yourself and work on it.
The first 2 steps are things that I have found particularly helpful and have applied immediately to areas of ministry. Clarifying the win simply means to think to yourself 'what is the big win of this ministry/ event? If you can clarify that question it will help you to not only prepare for your area of ministry or upcoming event, but also it provides the basis of assessing whether it has been successful. Thinking steps, not programs means that when you are running a ministry, event or even a service you are always thinking about how you can help people take the next step in their faith. How can we help people take the next step? If you consider and answer that question you will be able to help people through the pipeline of a faith or leadership journey in their lives.
If you are looking to simplify or ensure the area you lead is more effective this is an easy read with some great principles to learn and apply.
Stay tuned for 4 more next week!